ABP Southampton Charity of the Year
The Joe Glover Trust is ABP Southampton's employee chosen Charity of The Year for 2013..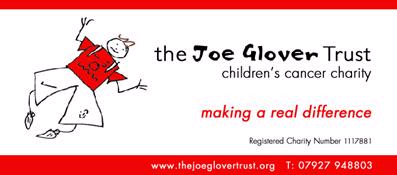 One of the important events that kicks off the new year at ABP Southampton is the announcement of the new charity of the year. The ethos behind our charity of the year campaign is to commit to a single charity to give staff a focus for fundraising efforts during the year. By getting the staff to decide which charity they wish to support each year, everyone feels involved right from the start and we can all feel like we are making a difference.
To select our chosen charity, employees nominate charities who have a strong presence in Southampton or Hampshire. They must also contribute to the local community and have the ability to maintain a creative fundraising calendar. But most importantly, the charity must share our values of 'safety, integrity, openness, responsibility, contribution, team work and community'. Once a short list has been compiled, all employees are given the chance to submit their vote.
All sorts of events happen throughout the year to raise money, ranging from dress down day once a month, to virtual horse racing, to the more athletic members among us swimming across the Solent in extra cold temperatures and a whole host of other gruelling physical activities, all in the name of charity.
---
The Joe Glover Trust is a small local children's cancer charity working with families and specialist children's cancer units across Hampshire and the Isle of Wight, Dorset, Wiltshire, West Sussex and the Channel Islands, providing support in two ways. Firstly we provide financial assistance to families to help with the additional costs of caring for a child on cancer treatment. Secondly we support the Piam Brown Unit which is the regional paediatric oncology and haematology centre for the Wessex Region at Southampton General Hospital.
The Joe Glover Trust is dedicated to helping improve the lives of children suffering from cancer and their families. Parents of children with cancer can struggle to cope with the unexpected costs of caring for a children receiving treatment. Treatment can go on for 2 or even 3 years. A recent report found that 3 in 4 families reported there was a major impact on their family finances when a child is diagnosed with cancer, with many parents being forced to give up work or take unpaid leave to care for their sick child.
The Joe Glover Trust gives grants to help relieve some of the financial pressures families are facing. These can include grants for mortgage or rent payments, travel costs to hospital, car repairs, furniture, fuel bills or sadly funeral costs.
All children diagnosed with cancer in the Wessex Region will receive treatment at the Piam Brown Ward at Southampton General Hospital as well as at their local district hospital. At Piam Brown Ward, which is the Regional Paediatric Oncology and Haematology Centre, the Joe Glover Trust has equipped every bed with its own television, wireless keypad, laptop and XBOX. During 2011, we also gave a grant to help towards the refurbishment of the Parents' Room on the ward for parents to have an area they can relax in for a short while as many stay with their child 24 hours a day. Currently we are working towards providing a mobile pack to include an iPad for children and families needing to travel to treatment.
The Joe Glover Trust is a small charity but you can help make a real difference.